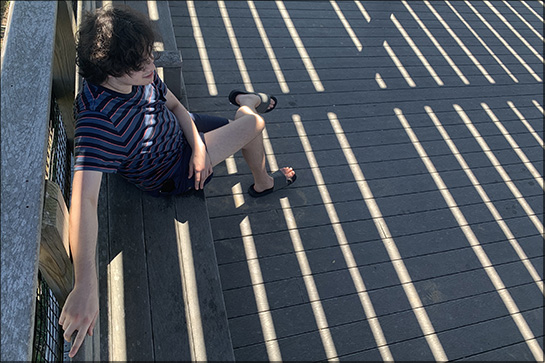 As a homeschooler, I knew college applications would be tricky. We started focusing on them completely at the beginning of the summer. And our interactions became more and more combustible until the final forms were due January 15.
Stage one: How could you do that? 
"Mom, I thought I graduated. You keep saying we're done with school."
"It was figurative. Not literal. I'm just sick of it. I needed a break."
"Then what grade am I in?"
"You're a senior. Everyone who applies to college is a senior. That's how the world works."
Stage two: You are so stupid
"Mom they want you to write your homeschool philosophy here. And also your grading system."
"Is that a joke? My grading system is you get an A or why the fuck are we even doing this? My grading system is take responsibility for your fucking life."
"Mom, they're serious. I think it's serious."
"I have to call someone. I don't believe this is serious. Everyone will just write some BS…. Okay it turns out I have to write some BS. Okay. I'll do that."
Stage three: This is insane
"Do you have my grades from the last four years?"
"You're a homeschooler. They're expecting straight As."
"What do I get for a 4 in an AP class?"
"A 4. I don't know. What homeschooler gets a B from their mom? You look insane when you try to be Mr. Ethics because you can't tell the difference between being ethical and being a tool."
Stage four: I'm paying someone to tell you I'm right
We hired a counselor to help us. You'd think that would deflate our combustibility because we paid her hourly so we would be essentially paying her to listen to us argue with each other.
We did that. We paid to argue.
It turns out I was wrong about so many more thing. We rewrote every application.
Some nights I'd stay up late reading high schooler insight on Reddit about various application strategies, hoping that I don't make any more bad calls.
One kid posted: "I finally told my mom I'm worried I won't be accepted anywhere good. And my mom said, I'm worried too."
I did a double-take. That could be my kid. I was sad.
Later I said to my son, "I know this is really hard. You've done a good job standing up to me when you know I don't know what I'm doing. It's a good sign. You're going to do well."
"Really? You think that?"
"Yeah."
https://education.penelopetrunk.com/cdn/y-beach-deck-shadows-blogsize.jpg
363
545
Penelope Trunk
https://blog.penelopetrunk.com/cdn/home/pt-logo.png
Penelope Trunk
2022-05-01 17:05:13
2022-05-01 17:05:13
The four stages of college application animosity